*DOWNLOAD*
Scroll down for a tutorial!
This year my grandma would have got a homemade card for Easter again. For years I sent letters back and forth with her and she was always very happy about it. Unfortunately my grandma died three weeks ago and it will be the first year without my long pen pal. But I'm glad that she doesn't have to experience the current situation anymore. It would have been hell for her to be so isolated. I'm sure other older people feel the same way.

If you need some entertainment for your children (or yourself), how about a handmade card for grandma, grandpa, relatives or friends? In a digital world, everyone is happy to have something from the heart in their hands again. Especially in times like these.
If you share your work don't forget to tag me or use the hashtag
#ColorwithSali
. I would be happy to see how your version looks like!
Stay healthy <3!
------
Auch dieses Jahr hätte meine Oma wieder eine selbstgebastelte Karte zu Ostern bekommen. Jahrelang habe ich mit ihr Briefe hin und her geschickt und sie hat sich immer rießig darüber gefreut. Meine Oma ist leider vor drei Wochen gestorben und es wird das erste Jahr ohne meiner langen Brieffreundin. Ich bin allerdings froh, dass sie die derzeitige Situation nicht mehr miterleben muss. Für sie wäre es die Hölle gewesen so isoliert zu sein. Ich bin mir sicher, anderen älteren Menschen geht es genau so.
Falls ihr für eure Kinder (oder euch selbst) eine Beschäftigung braucht, wie wäre es mit einer selbstgebastelten Karte für Oma, Opa, Verwandte oder Freunde? In einer digitalen Welt freut sich jeder, wieder etwas in der Hand zu halten, das von Herzen kommt. Gerade in Zeiten wie diesen.
Falls ihr eure Werke teilt vergesst nicht mich zu taggen oder das Hashtag

#ColorwithSali

zu verwenden. Ich würde mich freuen zu sehen wie eure Version aussieht!
Frohes Schaffen und bleibt gesund <3!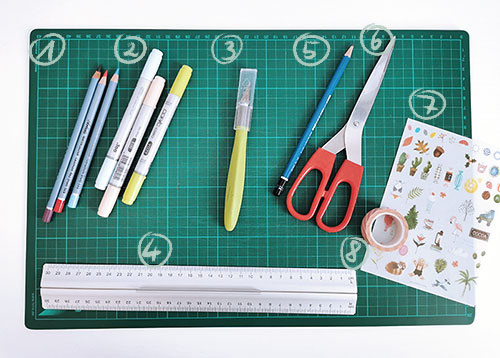 You need:
1 - a cutting pad
2 - crayons or markers
3 - a craft knife
4 - a metal ruler
5 - *op
tional
* a pencil
6 - *optional* one pair of scissors
7 - stickers
8 - Washitape
9 - a printer
10 - printer paper with 300 g/m²
Du brauchst:
1 - eine Schneideunterlage
2 - Buntstifte oder Marker
3 - ein Bastelmesser
4 - ein Metallineal
5 - *optional* einen Bleistift
6 - *optional* eine Schere
7 - Sticker
8 - Washitape
9 - einen Drucker
10 - Druckerpapier mit 300 g/m²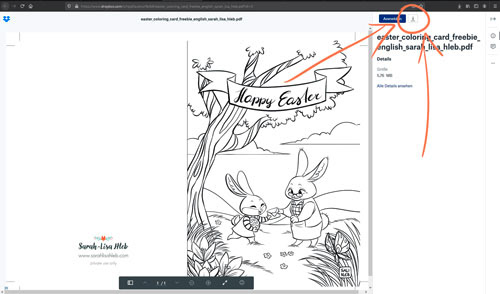 Download the PDF.

------

Lade das PDF herunter.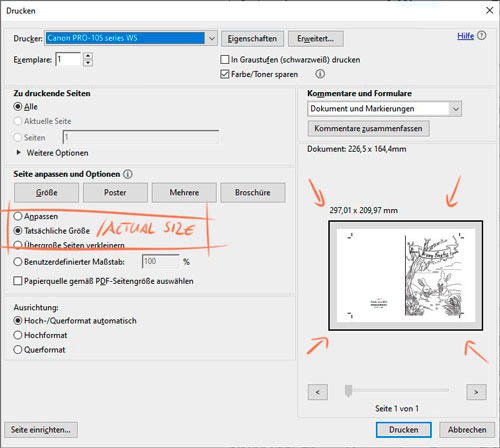 Print the PDF on a thicker paper (300g/m²). Make sure to use the "Actual size" setting. 

-------

Drucke das PDF auf einem dickeren Papier aus (300g/m²). Achte darauf die Einstellung "Tatsächliche Größe" zu verwenden.
Paint the card with either colored pencils, markers or felt pens.

Male die Karte entweder mit Buntstiften, Markern oder Filzstiften an.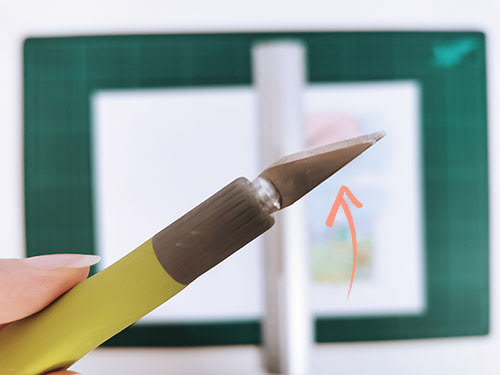 Use the *BACK SIDE* of the craft knife...

-------

Benutze die *RÜCKSEITE* des Bastelmessers...
... and prepare the fold. Be careful not to press too hard, so you don't cut the sheet.
-------

... und bereite die Falz vor. Achte darauf nicht zu fest anzudrücken, damit du das Blatt nicht zerschneidest.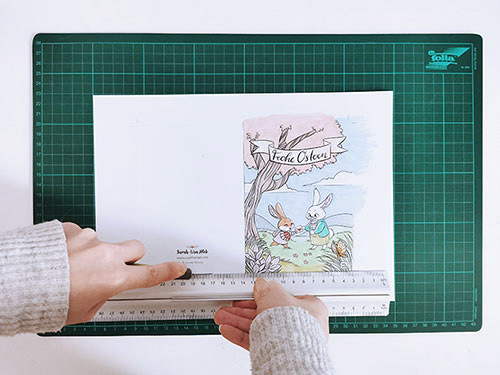 Place the metal ruler against the cutting marks, hold it firmly and cut along the ruler with a knife.
*ATTENTION* Take care to cut only up to the markings.

-------
Lege das Metallineal an die Schnittmarken an, halte es gut fest und schneide mit Messer entlang des Lineals. *ACHTUNG* Achte darauf nur bis zu den Markierungen zu schneiden.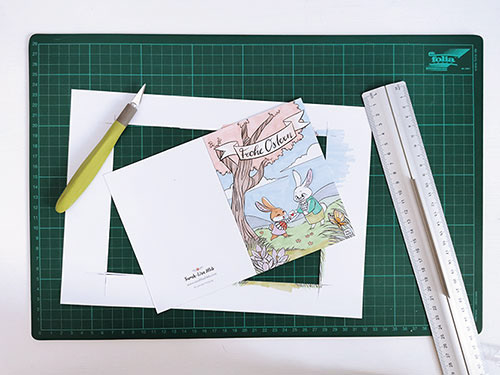 This is how it was supposed to look: The edge is still in one piece.
*TIP* To be on the safe side, you can of course cut out the card first and then paint it.

-------

So sollte es aussehen: Der Rand ist noch in einem Stück.
*TIPP* Um auf Nummer Sicher zu gehen kannst du die Karte natürlich auch vorher ausschneiden und dann bemalen.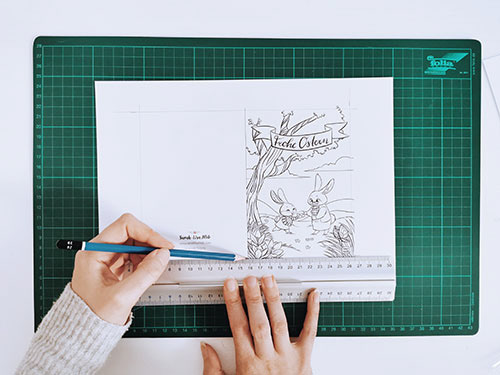 *ALTERNATIVE* If you don't have a craft knife, use a pencil and a ruler to connect the marks...
------

*ALTERNATIVE* Wenn du kein Bastelmesser hast benutze einen Bleistift und ein Linieal um die Markierungen zu verbinden...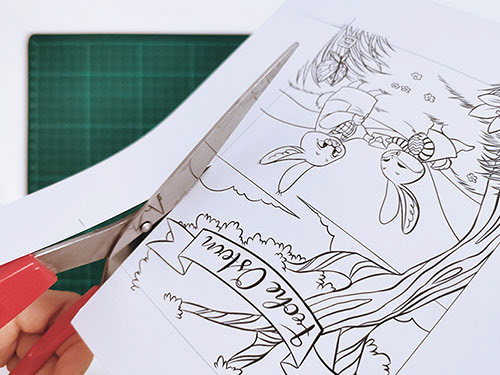 ...and cut the card out as straight as possible.

------
...und schneide die Karte so gerade wie möglich aus.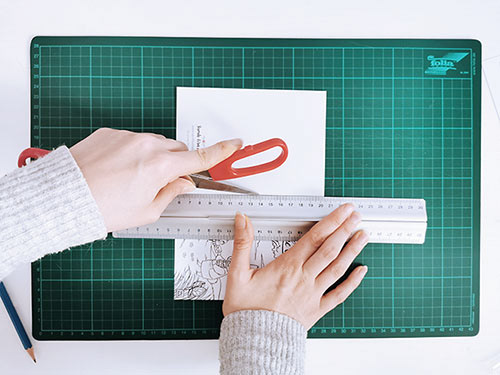 Prepare the fold with the opened scissors. Take care not to cut too tight here as well.
------

Bereite mit der aufgeklappten Schere die Falz vor. Achte auch hier darauf nicht zu fest zu schneiden.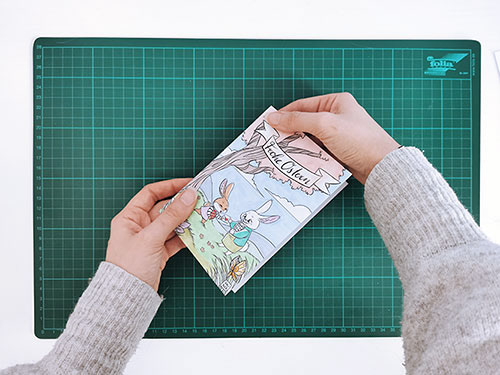 Fold the card carefully.

-----
Falte die Karte vorsichtig.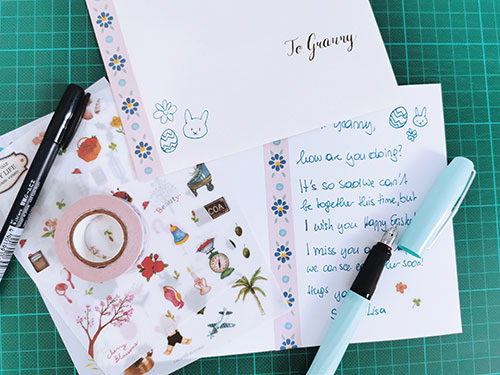 Write a few nice words and decorate the letter with stickers, washitape and small drawings.
*FINISHED*

-------

Schreibe ein paar nette Worte und dekoriere den Brief mit Stickern, Washitape und kleinen Zeichnungen.
*FERTIG*